The keys to getting great executive portrait and headshot photographs.
As professional photographers in Las Vegas, we get approached about executive portrait and headshot tips all the time. There are so many factors that can effect the success of your portrait, so we've to put together some professional executive portrait and headshot tips and tricks to help you find what style of portrait would best represent you.
1.Backdrop
Lets start with a simple decision, like what kind of backdrop best suits your executive portrait.  The backdrop you select says a lot about the message you are trying to convey. If this is an executive portrait to be used to represent you in the professional field, perhaps a nice neutral grey backdrop would be best. A portrait photographed on neutral grey is probably our most popular selection, because it is not too moody or too loud. It is clean and simple, allowing more viewers to find it appealing. It also allows the focus to remain on you, the subject of the executive portrait.
This makes a great marketing tool for a professional business or a Linkedin profile. Of course you can buy a seamless paper roll in just about any color, so if you find yourself to be a very bold person or someone who needs to stand out, simply adding color to the backdrop can definitely help with that.
Types of Backdrops
A paper backdrop is not your only choice when it comes to backgrounds. There are other options like a painted backdrop that the distinguished crowd seems to enjoy a little more. Another popular option is to blur out the background, whether out in nature or in the heart of the city. A shallow depth of field can have a really nice effect which will add some color to the image, but also keep the focus on the subject like in the samples below.
You can tell that the portrait was captured outside, but are not distracted by a squirrel or street sign in the background of the portrait. Then there is making the background part of the portrait. Perhaps a mural that compliments your overall look, or simple wood wall that just adds a touch of texture to the photograph. This is one of our favorite ways to shoot a portrait and is great for your social media needs.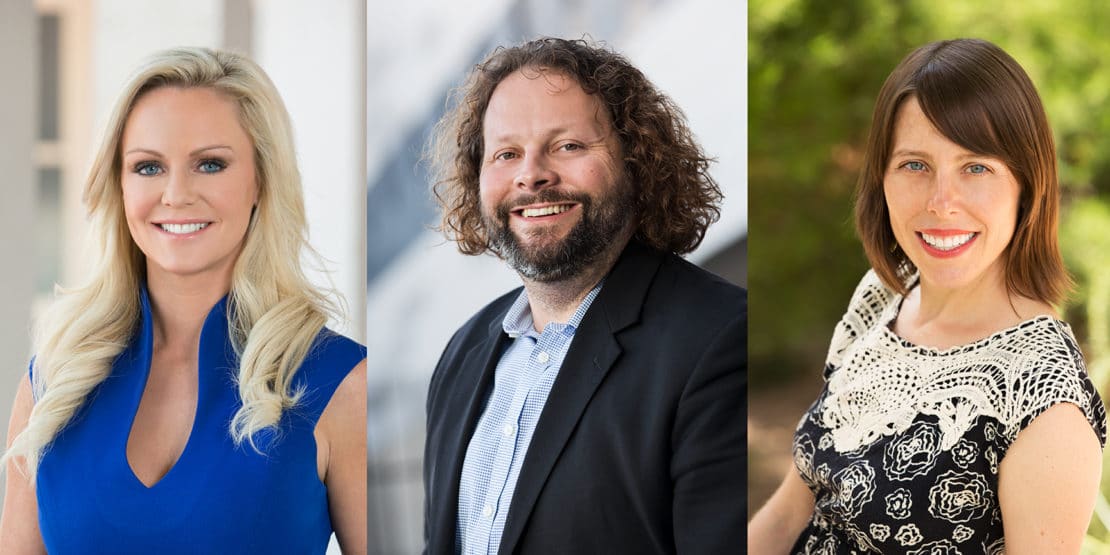 Environmental Portrait
Another reason to have a more in-focus background for your portrait would be the classic environmental portrait. This style of portrait generally includes the subject's office or line of work in the image. This will really help connect the viewer to their profession. For example, a chef may be in a kitchen or a lawyer may be at their desk with all their accolades behind them. This will help the viewer to associate you with your type of work. Which can be hugely beneficial in marketing your services.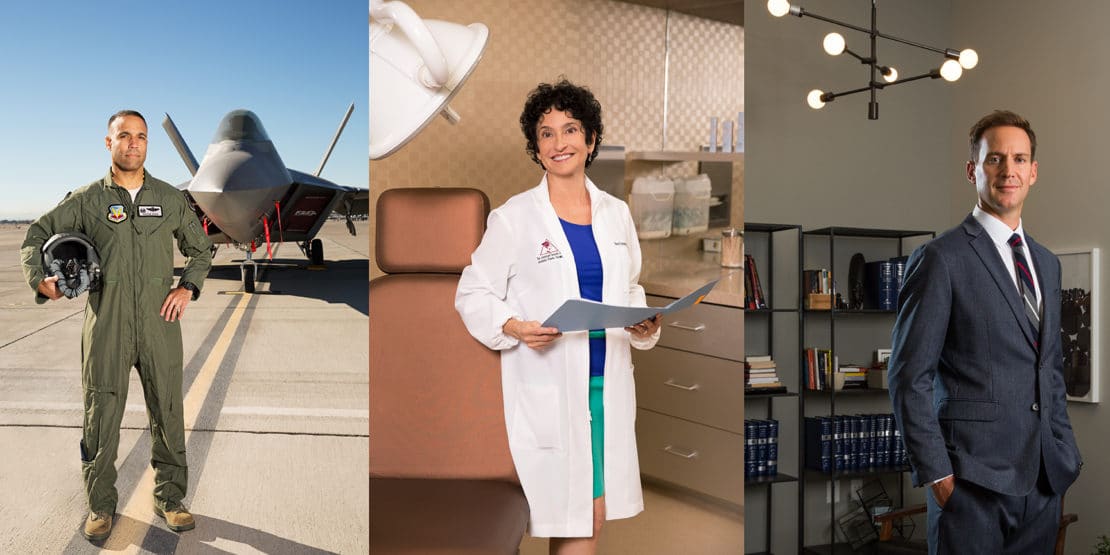 2. Lighting
In a headshot or executive portrait, lighting can drastically change the perception of an image. Just like the neutral grey, nice and evenly diffused lighting is the preferred lighting for a headshot. If you are familiar with the term 'open shade', this is one of the easiest ways to produce a well and evenly lit headshot when photographing outside. Simply put, have your subject stand in the shade instead of direct sunlight. This allows for less squinty eyes and unwelcome harsh shadows. Even lighting can help reduce shadows and hard lines on the face. Which is generally the most flattering approach for everyone.
Perhaps you're an actor and need to have some drama in your headshot. Using more directional lighting is a fast way to add some drama into your acting headshot. Lighting the image properly should be the photographers job to worry about. However if you have samples or an idea of how you want your image to look, definitely let the photographer know ahead of time. Open communication with the photographer will definitely help you achieve the best portrait to fit your personal style. We find having someone gather a few samples on Pinterest can really help us get an idea of the vibe. Which in turn lets us know the proper way to light them for their session. The examples below can give you an idea of how drastic an image can change with just adjustments to the direction of the lighting.
3.Clothing
Confidence is key in getting the best executive portrait or headshot. We always suggest dressing in something that makes you feel good about yourself. I mean for me, the ripped up t-shirt that has been my favorite piece of clothing for 15 years makes me feel super confident. But it may not make for the best option for my professional business profile. However, there are still some other factors to consider besides just making sure you feel confident. Your clothes should match how you are trying to promote yourself in the portrait. If you are a lawyer for example, chances are you will be photographed in a suit. As this is what the general public would expect to see you in. However, if this is your artist profile on Facebook, maybe a suit is not the way to go.
We usually steer people away from heavy patterns as they tend to sometimes take away from the subject. While busy patterns also do not tend to photograph as well. Solid colors like jewel tones often work very well in adding a little color and brighting up an image. We would suggest trying to find clothes that are not too baggy or bulky. But rather something that fits your form comfortably and is flattering.
4. Pamper Yourself
Treat yourself! Some of our clients choose to have a professional hair and makeup artist help them achieve their best look for their executive portraits and headshots. This allows for a more flawless look in the final image and usually provides less stress for the subject. If the goal is to have this headshot represent you, or possibly to help gain you some business, why not put your best foot forward and have a professional help you achieve this polished version of yourself.
The little touches like the right amount of makeup and the best hair do to fit your look will really help separate your portrait from the rest. Typically the professional will stay through the session to keep an eye on your hair and makeup should anything need adjusting during the shoot. This allows the subject to not have to worry about their hair moving out of place or lipstick on their teeth which can help with the subjects confidence.
5.Comfort Level
As we mentioned above confidence is key. Find a professional photographer that you trust to capture your vision. If you feel comfortable with a professional photographer and trust them to guide you through posing, you will most likely be much happier with the results of your portrait. Search their portfolio and see if the photographer has imagery similar to the look you are trying to convey. If their portfolio looks promising, we would suggest you reach out to the photographer. Let them know what kind of portrait or headshot you are looking for, and let them help guide you in the right direction.
6. Rules Are Made To Be Broken
After all the suggestions we have mentioned, we also find it is extremely important to stay true to who you are. As much as we love following the rules, sometimes its okay to break a few. Wear all the patterns, in the harshest light, with everything in focus. The goal is to find an image that you feel proud promoting yourself with. So while there are many tips to producing a flattering executive portrait and headshot, we don't want you to feel fenced in. If your favorite outfit is a neon pink and brown plaid suit, and you think it would look fly on that rainbow mural down the street. Well then, we encourage you to go for that! As creatives we have honed our craft enough to help you create the look that fits you, and helps you succeed.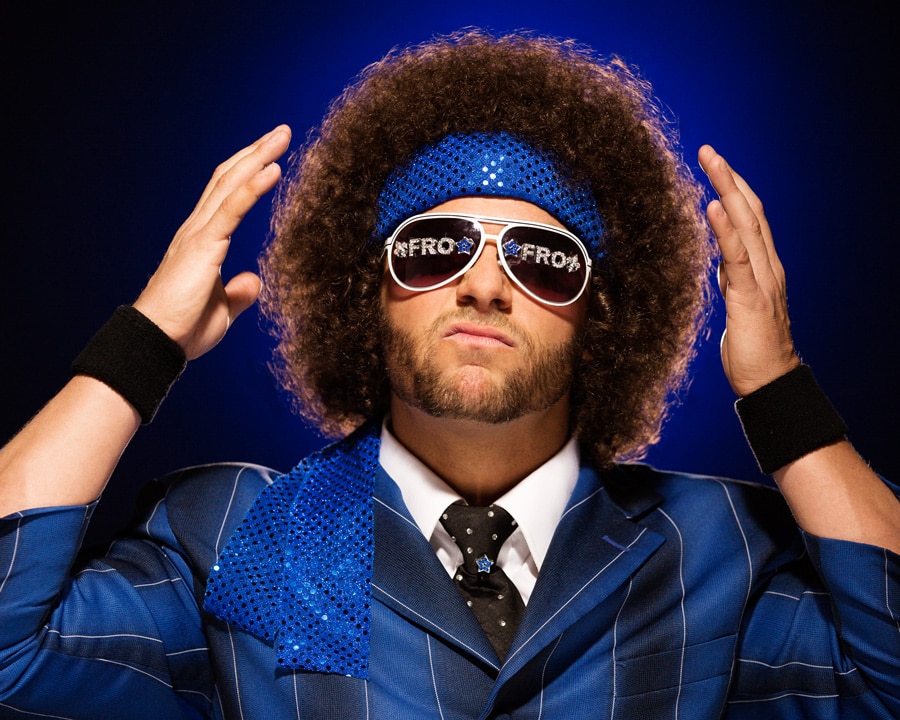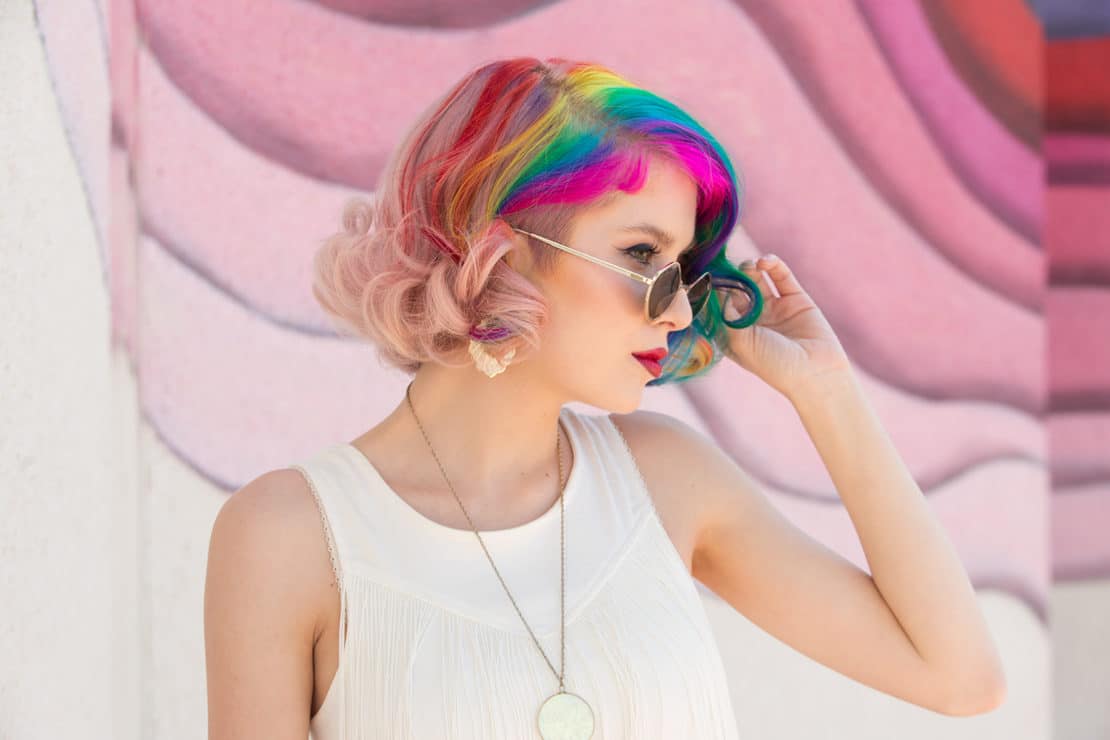 Want some more executive portrait and headshot tips and tricks to achieve your best executive portrait or headshot? Check out some of these links below.
6 Headshot Tips: Advice to Give Your Clients for a Portrait Shoot