<![CDATA[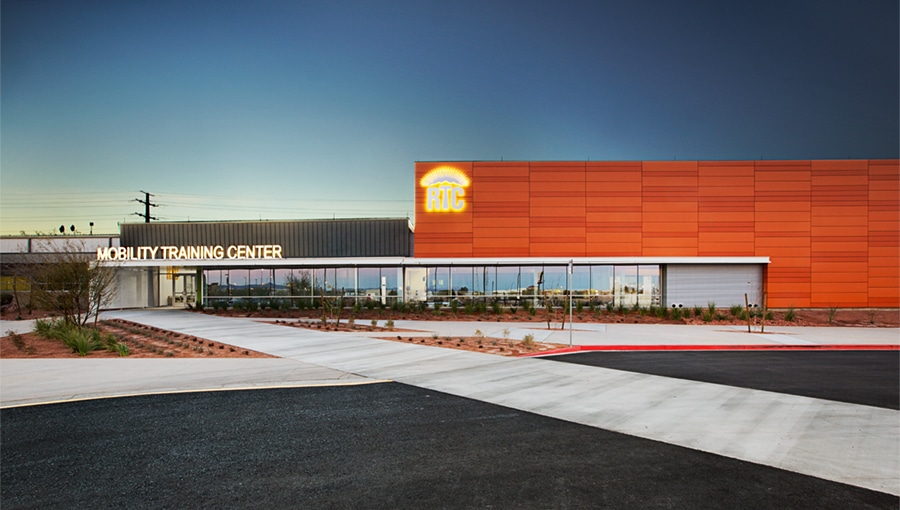 We have been at this game long enough to not even think twice if someone needs an architecture exterior captured. No problem friends, Square Shooting has your back. When the request goes beyond just capturing an image of a structure, but also includes providing a final prooduct that can be printed at scale in another location… Well we still have your back, we just have some additional problem solving to figure out. That is exactly what we had the chance to provide for Sletten Construction in their build out of the Mobility Training Facility for the RTC. After being vetted by Anne Johnson Architecture, we were hired by Sletten Construction Company to capture AJA's vision of an existing apartment structure, a commercial building, and the UNLV sign above the Thomas and Mack Stadium. The goal was for these structures to be recreated at scale or very close to scale inside the new 6.7 million dollar training facility. The cityscape assembled in the new location would create a backdrop where seniors and persons with disability would be trained in a hands-on environment to become competent and confident in maneuvering crosswalks, sidewalks, and bus stations in their daily routine. This free of charge training would help alleviate some of the paratransit door-to-door pickup, and hopefully grant their trainees a bit more independence.
But how do you blow up one image so large while retaining enough detail to convince someone standing only a foot away that it is not a photograph? You don't. You blow up many many images to do so. This was the best way we found to maintain enough resolution to produce an image that was perceived as 3 dimensional.  One small apartment garage door is compiled of four separate image captures, so when stitched together in computer software enough detail is retained to print a believable garage door at scale size. Now imagine doing this for an entire apartment complex that has to be adjusted to fit the already built walls at the RTC training facility. This is where our friend math came into play. So much math. Picture all the math and then double it. Using computer software we were able to create scaled and pieced together photographs, that a local company Pictographs printed out and installed on to the existing walls of the training facility.
All said and done the project was a unique treat to work on. We were forced to learn something we had never tried before, we got to collaborate with some very talented businesses, and we ended up creating a pretty remarkable product that will hopefully help to gain some seniors and persons with disability a little more independence in their lives. We would call that a win.
Channel 8 did this fun little piece on it that shows off the space quite nicely:
http://www.lasvegasnow.com/news/driving-you-crazy-rtc-opens-new-mobility-training-center