Professional Photographers
Let's talk about Las Vegas Locations for Professional Photographers. Las Vegas has an endless list of locations to suit any professional photographer's needs. No matter what type of professional photographer you are, Las Vegas has a location for you.  Some locations are obvious to any professional photographer. Take the Las Vegas Strip for example and the famous Welcome to Las Vegas Sign. I'm sure you would be hard pressed to find anyone who is unfamiliar with these scenes and how photographic they are. Hopefully we will also shed some light on some less known locations. 
Las Vegas Strip for Professional Photographers
Let's start with the most obvious selection for professional photographers looking to shoot in Las Vegas. The Strip offers endless opportunities. Of course if you are a professional event photographer, it goes without saying you will find the majority of your work on the Strip. With conventions as one of our leading industries, the need for professional event photographers is endless. Not to mention the never ending flood of entertainment acts that need to be documented by professional photographers. Don't even get me started on weddings. Professional event photographers who specialize in weddings, are no strangers to the Strip. 
The professional wedding photographer can also fall into line with a professional portrait photographer. The Las Vegas Strip is an ideal place for professional portrait photographers to produce quality and unique portraits. Whether you want a portrait with flowers or neon behind you, the Las Vegas Strip has you covered. Your best bet would be to decide what vibe fits your subject and their wardrobe the best. That can be the canals at Venetian, the fountains at Bellagio, the neon lights, the gardens, the pools, the possibilities are vast.
What if you are a professional architectural photographer? Well, then you just hit the jackpot with the Las Vegas Strip. Especially if you are a professional architectural photographer in our current state of quarantine. It is so rare to see the world famous Las Vegas Strip void of tourists, but that just makes it prime, for the professional architectural photographer. So many unique structures in one area. Most likely you would still find the true professional architectural photographer out at sunrise and sunset to catch the golden hour. It is a wonderful and unique place to catch a city scene or an individual structure. 
Valley of Fire for Professional Photographers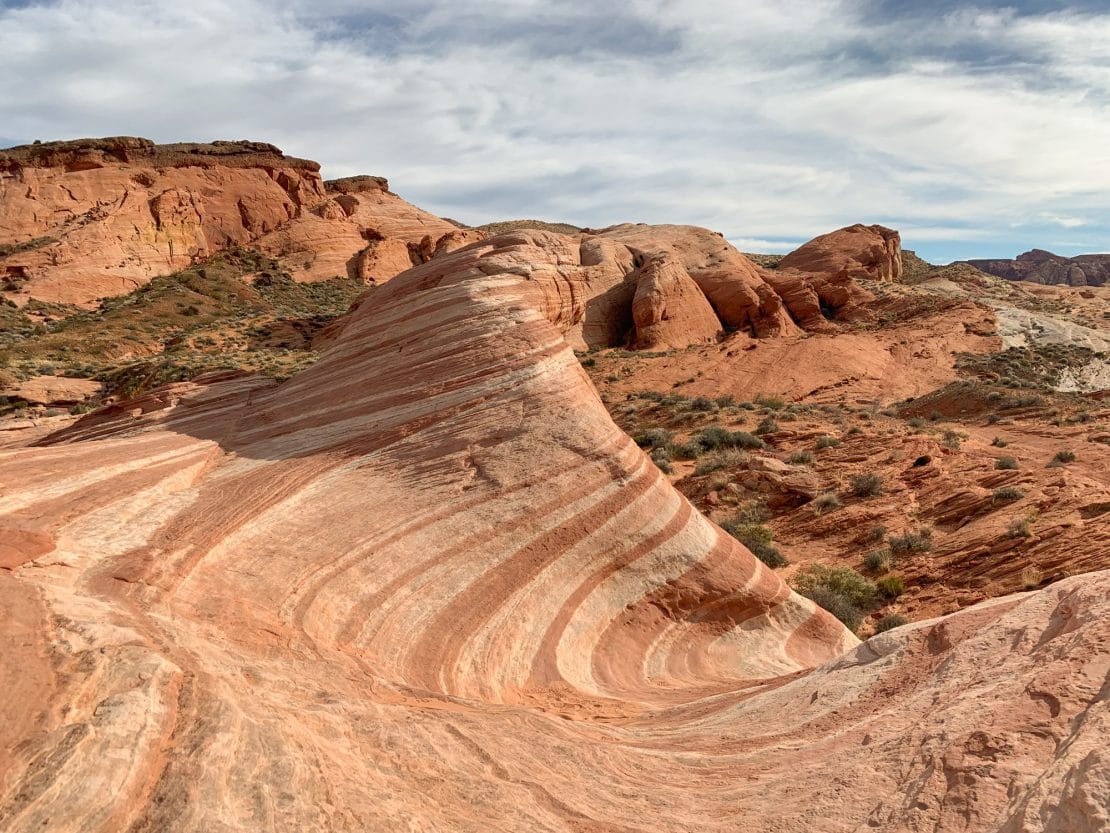 Only an hour outside of Las Vegas lies the beautiful wonders of the Valley of Fire. This is a professional photographer's paradise. So many different nature scenes to choose from and incredible backdrops. An obvious choice for a professional portrait photographer, or wedding photographer. I also like this location for professional fashion photography. This would obviously be based on the fashion line, and if a nature scene enhanced or complemented the look of the designer. The backdrop options widely range from red sandy desert, slot canyons, amazing rock formations, white domes, waves of fire, even a rock formation that looks like an elephant. 
Maybe the best fit for the Valley of Fire would be a professional nature photographer, or a professional landscape photographer. It is definitely a great spot for the night photographer. While so very close to Las Vegas, this destination is also far enough away to allow for the crystal clear skies. Put the insane rock formations and waves of fire in your frame and add in some star trails or a milky way. Not sure it gets much better than that. I can also vouch from personal experience they have some of the best campgrounds. They go quick, and I don't recommend going in the summer as it can get pretty hot. If you can go midweek and get there early, they have campsites built into the rock formations that are completely worth the effort. It simply is a magical playground for any professional photographer. 
Rhyolite Ghost Town for Professional Photographers
Now that we have mentioned professional photographers that may have an interest in night photography. I don't want to scare you, but I have the perfect place. See what I did there? Ghost town. Don't want to scare you… Never mind, back to the point.  While it can be a great spot for the professional portrait photographers, or professional fashion photographers. I think this place is best known for night photography. A ghost town covered in art and decaying buildings, and far away from the bright lights of Las Vegas. The most popular art installation would be a series of ghost-like sculptures, some even with bicycles. Definitely worth checking out in person should you be a professional photographer with a love for night photography. 
Fabulous Downtown Las Vegas for Professional Photographers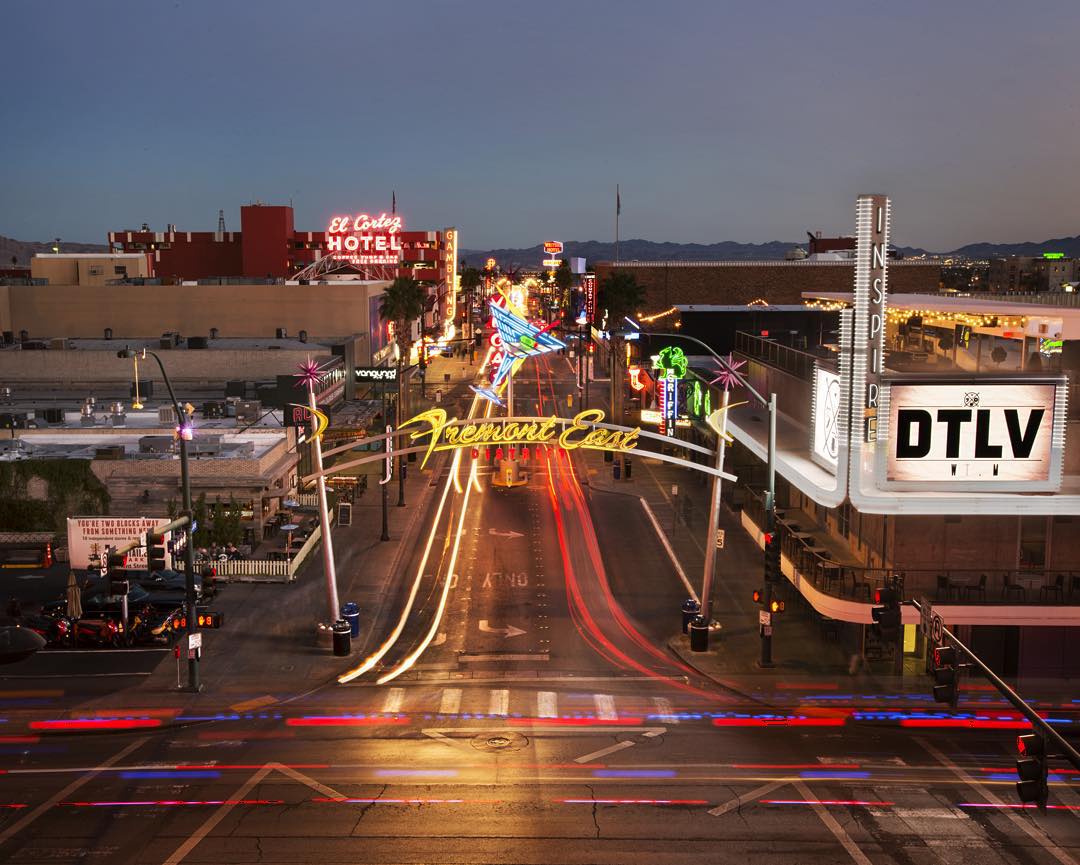 Okay we have covered the tourist hot spot, some nature, and a little wild west. Perhaps you want an urban environment but with a little less hustle and bustle than the Las Vegas Strip. I have just the spot for you. Actually a couple spots for the professional photographer that all fall under the umbrella of Fabulous Downtown Las Vegas. This also happens to be where Square Shooting's professional photography studio is located, along with some of my favorite restaurants, bars, and shops. Definitely a fun place to visit for anyone but especially for professional photographers.
Fremont East
Located in Downtown Las Vegas, this area is jumping. The first reason I would send any professional photographer to this area is the murals. We have some of the best murals from world renowned artists all over this area. Mainly because of the music festival, Life is Beautiful which brings in muralists from all over just for this specific event. It's a great place for professional photographers that are into street photography. It also has some fun options for the professional architectural photographers. The most popular use of these murals by professional photographers is definitely, wedding, portrait and fashion. I can not remember the last time I drove through the Fremont East area without seeing someone snapping pictures. Not that it's crowded and overrun with people, but it is a popular place for professional photographers. 
The Arts District
This area has amazing murals at every turn, but not as many world renowned artists as the Fremont East area. I don't mean that as a negative, this area has some of the more photogenic murals for professional photographers. The Arts District, also known as the 18B, is home to more murals by local artists. We are not short on the local talent either. Our Las Vegas artists are truly remarkable and it is worth a visit to check out their work. Whether you want a mural of a dinosaur, a whole factory painted in candy color stripes, or David Bowie, you got it. Also a great place to grab a drink, food, and do some shopping. You don't have to make it about just the murals as well. The architecture, alley ways, and environment lead to vast options for photography backdrops.
Since the locations are endless, below are some links to help you find some more.
https://www.tayloredphotomemories.com/best-las-vegas-photo-shoot-locations/
https://jimnix.com/top-photos-spots-in-las-vegas
https://frappsandfrills.com/travelosophy/2019/8/4/retro-and-colorful-las-vegas-photo-spots